We'd like to tell you the story of our new Metal Potato site… because after you read our story, we think you'll want us to help you tell your story.
The orders started coming in almost immediately. Within hours of the soft launch of our new Metal Potato website, we'd already brought in more new projects than the previous version had in six months! So what changed? Our USP.
The only thing certain is change…
When we first opened our doors, Metal Potato was among the first and fastest out of the gates when it came to responsive web design (a fancy term that means a website may be viewed on all types of devices), and we found a corresponding USP: "Building the world's best mobile-friendly websites". Recently, however, we've noticed an alarming trend: web designers are developing a reputation to rival that of politicians and used car salesmen. While their technical skills and knowledge may be impressive, they don't seem to be able to meet a deadline, stay on budget, or craft a design theme that meets their clients' needs. Oh, and communication? Fuhgeddaboudit! We think this is largely the effect of specialization–of web people knowing more and more about less and less.
So we've set out to learn more and more about more and more, especially when it comes to understanding the things that you need to be a happy and successful client. The result of our odyssey is a new USP; one that is in our wheelhouse and best reflects our commitment to you as a customer. The new Metal Potato USP is "Let's do launch!"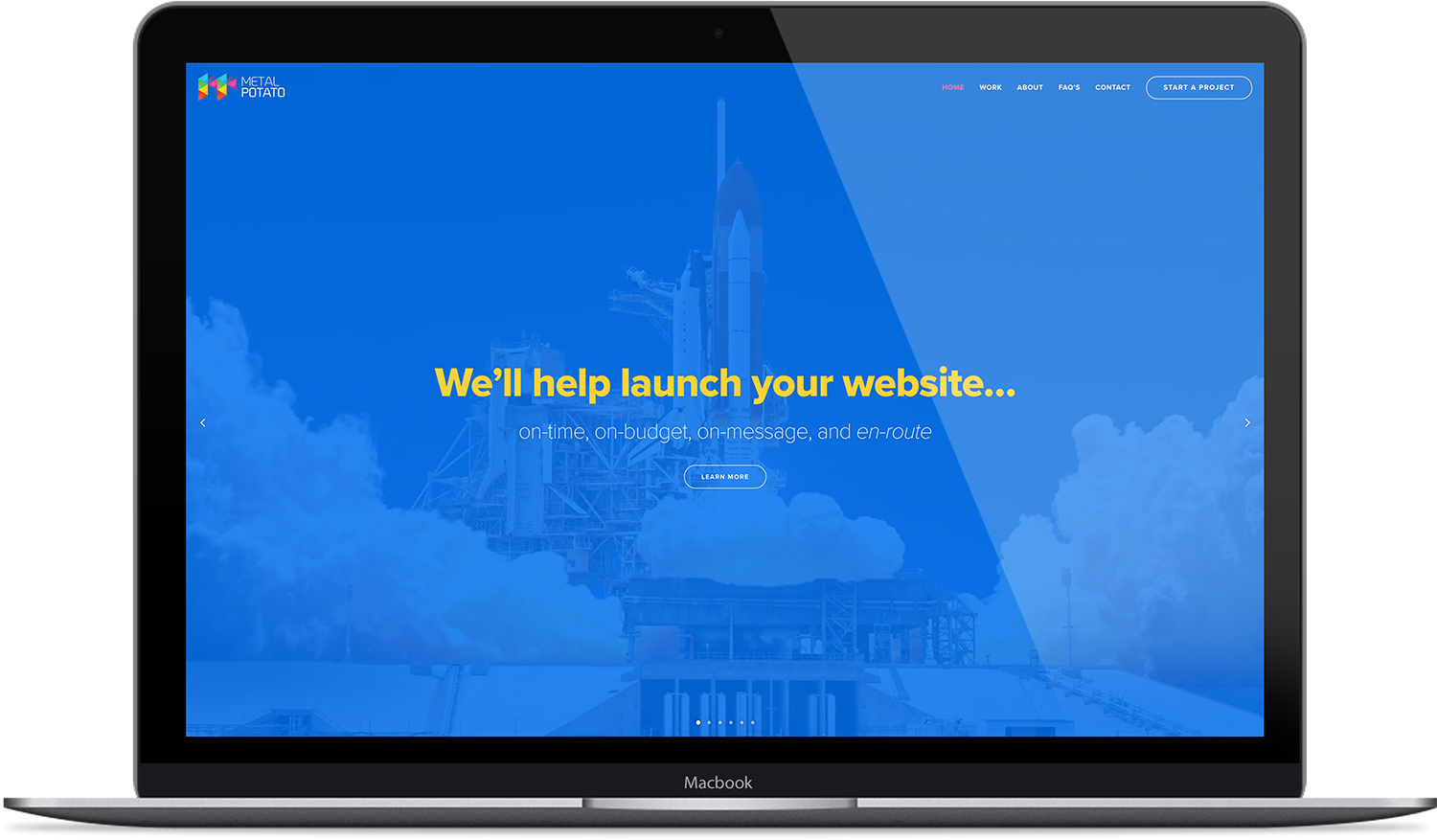 Let's do launch!
While our previous USP has served us well, responsive design has become an industry norm, so we needed a new focus to separate ourselves from the competition. One thing that never gets old is customer service. Another is excellence. We know that Metal Potato delivers on both counts–big time–but we wanted to manifest these ideals in a more tangible way.
So over many months of staff meetings, consulting with our best customers, soul searching, and trial and error, we developed four simple but important claims:
We will launch your website on time
We will launch your website on budget
We will launch your website on-message
We will launch your website en-route, meaning your site will look amazing on any mobile device.
Excellence and customer service are intrinsic to these statements. "Let's do launch!" is our way of encompassing them under a single, easy-to-remember banner. Our proposition is one that few design firms on the planet can match. These four claims are more than marketing tools; they are our commitment to you.
Pushing the envelope? Hell, we're burning it!
How far can the boundaries of web design be pushed? The mad science web designers at Metal Potato wanted to know, so we've spent two years testing, experimenting and pushing the boundaries of what's possible in WordPress-based web design. The new MetalPotato.com website and "Let's do launch!" theme don't just push the envelope; they burn it to ashes.
If a picture's worth a thousand words, video's worth a million
The site features the first-ever auto-playing background videos on mobile devices–a feature that was impossible to implement until only a few weeks ago. That technology allows the videos on our home page, projects, portfolios and posts to play and provide an experience just as rich on mobile as it is on a full-size desktop device.
Customer service on steroids
If you linger on the site for just long enough, we'll ping you a message to see if and how we can help. When it comes to customer service, we know that three out of four people prefer live chat to any other form of support. Metal Potato has Service "Spuds" located worldwide to answer questions you may have about our services, 24/7.
Localis(z)ed spellings
In the years since our original website launched in 2014, Metal Potato's business has grown to incorporate a massive overseas client base, particularly in the United States. And, well, you know Americans… always mucking up the spelling, so to speak (not to mention driving on the wrong side of the road) ;-). But with blog posts, portfolios and company information being viewed in both countries, we've constructed an automated piece of software that determines your country of origin and localizes the Queen's English. Now, whether you're a dude, a mate, or a bloke, you'll be reading in the most comfortable setting.
And this is where you came in at the top of the page. In less than a week, our new website and USP are already driving brand new clients through the doors. Suffice to say, we're beaming about the new MetalPotato.com website and our new message, "Let's do launch!"
A testament to teamwork
The new MetalPotato.com website is a testament to teamwork. Years ago, when I handcrafted the first Metal Potato website, I leaned on my own thirst for knowledge to get the job done right. This time around, I was fortunate enough to combine my knowledge of web design with that of our ever-growing Potato team, like Metal Potato copywriter and North American liaison, Joe Sills, who has provided much of the copy you see on the site, and has been a faithful sounding board throughout the design process.
Most especially, I'd like to extend a heartfelt thank you to Potato client and personal friend Dan Ferris of MidWest Outdoors, who has lent invaluable input and years of business and marketing experience towards the creation of this site. Dan exemplifies the reason Metal Potato started in the first place–to build real relationships with real people, beyond the glow of a computer screen. Dan's fingerprints are all over the build: He suggested the slides of Big Ben, the Sistine Chapel, and the iPhone introduction. Even the video graphics of the Space Shuttle launches.
These iconic images are familiar to us all. They are a part of our lives and are as comfortable as an old pair of shoes. Your website should resonate with your audience in the same way, and Team Potato can make that happen.
I'd like to personally thank you for visiting our new site and for taking the time to read the latest chapter in the Metal Potato story.
If you enjoyed this post, i'd like your email address please.
No fancy tricks or popups. Just our promise to deliver insight to your inbox twice per month.
---
We'll help launch your website on-time, on-budget, on-message and en-route. Let's do launch!