Paying for services should be easy. Forward thinking companies know this. That's why Apple created a way (Apple Pay) to pay for products with the flick of a wrist. But how do you make payment in the digital space as easy as a flick of the wrist in real life?
As a truly global web design company, a seamless online payment system is vital to the way our business operates. And it's not only about cashflow. We believe that the quality reflected in a client's website should be felt in even some of the very first interactions they have with our brand: that's why we threw away our old, out of touch payment system and created a new one especially designed for a global customer base.
Sometimes, systems and processes need to grow with your business. Several years ago, when Metal Potato launched as a UK-only web design company, we started the standard practice of invoicing and receiving payments via PayPal. The system was modern for the times, and it worked well as long as we were working with only one currency. But, as Metal Potato grew into more countries in recent years, we needed a way to deal with not only pounds, but dollars and euros as well.
Though we loved PayPal, its payment process was not robust enough to meet the needs of our growing business. Many customers without a PayPal account were unaware that they didn't actually need an account to use it. Others requested a step-by-step walkthrough of the process. It simply was not the elegant, branded system demanded by our quality of work.
Needless to say, this experience was confusing. People were generally perplexed. At its worst, the system could derail a project for days.
A fix was needed.
Potato Pay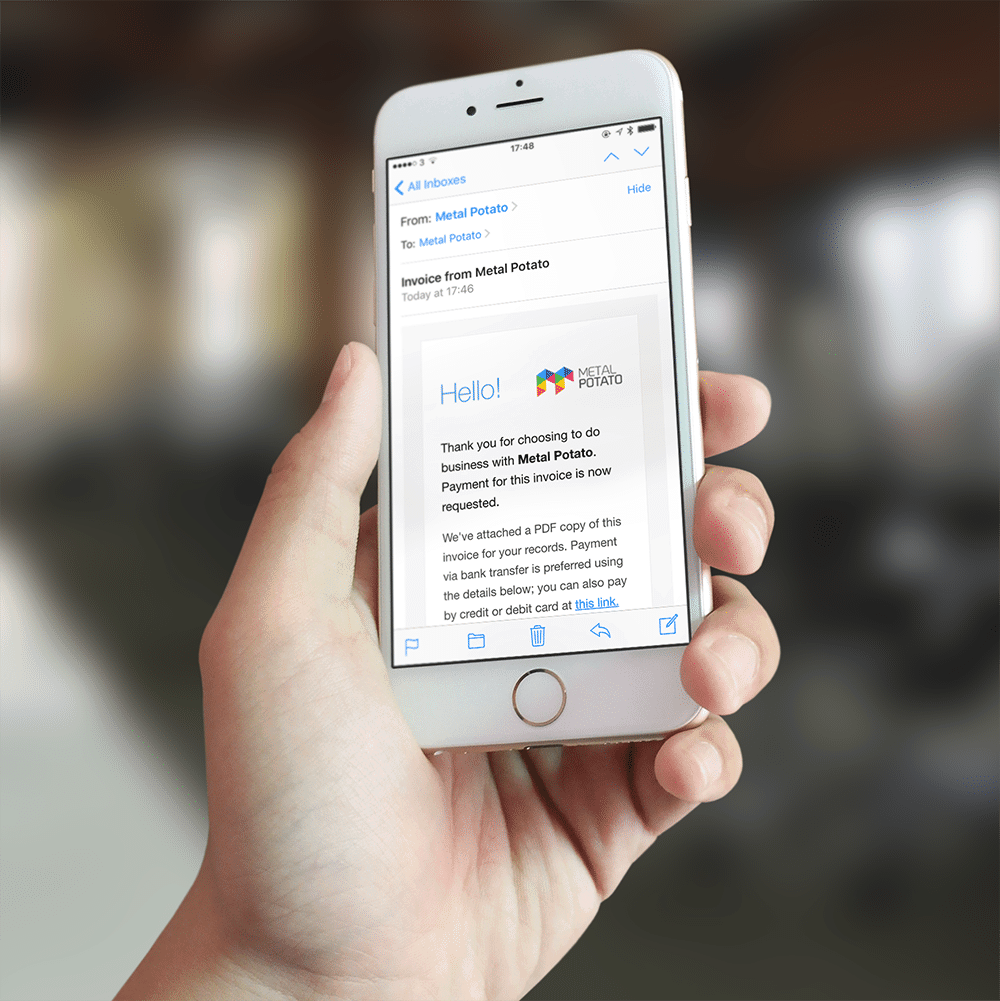 To remedy our payment system, we embarked on a three-month build using proprietary software. The end result? The Metal Potato payment system, Potato Pay: an easy to use website that accepts not only PayPal transfers, but standard credit and debit cards as well as bank transfers. It's a more flexible solution for our clients that also keeps track of sales data on the back-end, enabling true, real-time study of our cashflow and growth.
Now, we can issue invoices in any currency—pounds, dollars, euros, it doesn't matter—that includes a company branded PDF Invoice for the client's records. On the back end, custom built code checks and converts those invoices to pounds at the day's exchange rate. And, invoices have a little more personality now (yes, an invoice can have personality). A logo design invoice, for instance, has a different feel than a website maintenance invoice; each comes with its own customer service questionnaire to help us make sure our brand's quality is being met.
To top it off, Potato Pay analyses data from those invoices and our monthly website maintenance service to build visual reports and graphs. It's a real, tangible asset that we're already leaning on to grow.
And it was all custom built by our design and development team, in house, which is great and all, but what does that really mean for you?
We're telling you about Potato Pay not to toot our own horns (even though it's fun), but rather to illustrate what our company can do to help yours.
Here's how our custom payment system design experience can help your company succeed:
It's about fundamental problem solving. A ready-made solution was not available for our needs. However, using hand-written scripts that enabled our old system, PayPal, to communicate with currency conversion companies and our own database, we were able to build exactly what was needed—sort of like digital carpenters, which makes sense if you think about it.
Building a website is a lot like building a house. Yes, you're going to need workers who know how to hammer and saw and measure and nail, but you're also going to need a foreman and an architect; you need an entire team to build a quality house, just like you need to an entire team to get a quality website. Otherwise, you end up with the Three Little Pigs of both.
Websites can be compromised, they can be blown down. But if you build a sturdy, well-thought out website the odds of surviving the odd big bad wolf or hurricane are much greater, and that's where we come in.
Yes, you can now pay for our services easily no matter where you are on Earth. It just so happens, you can get a quality, custom-built website from us, too.
And that's something you can take to the bank.
If you enjoyed this post, i'd like your email address please.
No fancy tricks or popups. Just our promise to deliver insight to your inbox twice per month.
---
We'll help launch your website on-time, on-budget, on-message and en-route. Let's do launch!